Skip this post if you are feeling as though your Monday is heavy enough already...
I have been struggling in spirit for a few weeks after discussing spiritual issues with my dear friend. She is a godly mentor and mighty woman of God. I enjoy every moment we get to have together. I love to learn from her. But I told her that there is one issue that I differ with her on.
What happens to babies who die? Do they go to heaven?
As a 5-point Calvinist, I hold fast to the doctrine of election. Scripture is clear that we are chosen in Christ before the foundations of the world. That has always given me peace. But after our discussions, I began to think of what would happen to an infant who dies who is not elect.
Would God send a baby to hell?
God could. God is perfect and holy and just. Every person is conceived in sin, born into sin, and bears the scar of original sin. We have offended our holy God and He is righteous to judge us.
But a baby? My baby?
I had to search the Scriptures immediately to gain insight on what truth is regarding this matter. The issue is personal to me. I know that there were lives inside me that were, at a point, ended. Did those tiny, innocent beings go to hell or heaven? While I know that they bore the stain of sin, they were never able to choose to sin or deny their Christ. However, I didn't want to have my doctrine shaped by my feelings or emotions of anxiety and sadness. I didn't want to believe my babies were in heaven simply because that is what I wanted to believe. I desired
truth
.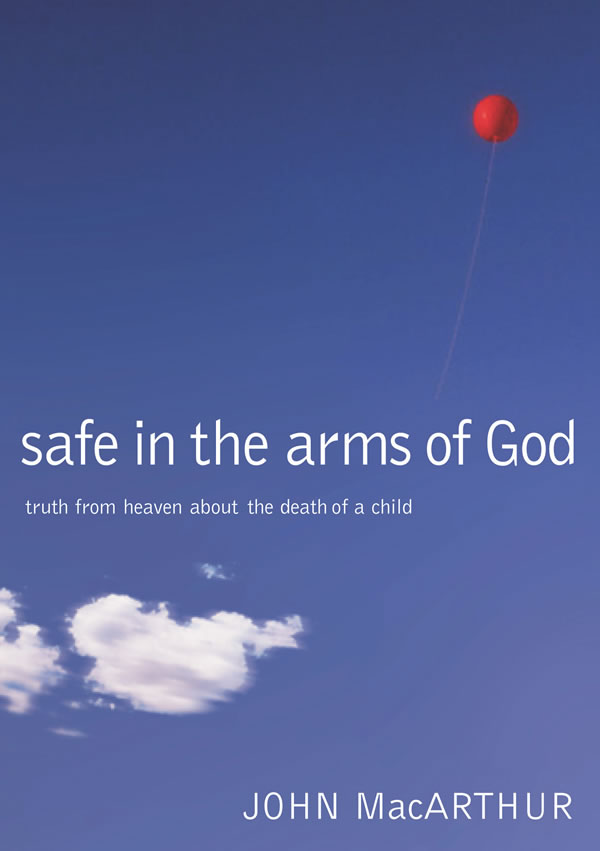 I began reading
Safe in the Arms of God
, by John MacArthur. It is the only book I have in my library that discusses such matters. I felt as though my soul were in despair as I began to pore through the chapters. Here is a synopsis of what I found:
"There is none righteous, no, not one; there is none who understands; there is none who seeks after God.." (Rom 3:10)
We are all sinful. Our hearts are deceitful and desperately wicked. We are sinners from birth- it is our nature.
However, salvation is a free gift. It is a loving act of mercy by a patient God who loves His creation. I can do nothing to earn my salvation. An infant, by comparison, can surely do nothing to earn his salvation. How great is the picture of grace and mercy when viewed this way!
Charles Spurgeon, in response to the accusation that Calvinism essentially damns infants to hell, said this:

"...We say with regard to infants, Scripture saith but very little, and therefore where Scripture is confessedly scant, it is for no man to determine dogmatically...We [Calvinists] hold that all infants who die are elect of God and are therefore saved...I believe that the Lord Jesus, who said 'of such is the kingdom of heaven' doth daily and constantly receive into His loving arms those tender ones who are only show and then snatched away to heaven."
But how does God accept sinful beings into His presence? The few Scripture passages discussed on this issue basically say that God looks at tiny children as innocents. Again, this is not to say that babies are not sinful. They are. They are sinners from birth. But there is a difference between an older person who chooses to sin or chooses to reject Christ, and a mind that is not capable of making that decision. As beings who cannot walk or talk, babies are truly incapable of choosing wrong. They are naturally bent toward it, but they do not choose it. Does that make sense? Here is what God says about babies:
"...Moreover your little ones and your children, who you say will be victims, who today

have no knowledge of good and evil

, they shall go in there; to them I will give it, and they will possess it [the Promised Land to the Israelites]." Deut 1:39
Without being able to choose sin or reject Christ, Scripture seems to say that God regards tiny children as "innocents".
In contrast, our
works
, our evil, is the basis for unrepentant sinners to spend eternity in hell. We are saved by grace but cursed by works. When Scripture talks about sinners in hell, it refers to the deeds that sent said sinners there.
"Do you not know that the wicked will not inherit the kingdom of God? Do not be deceived: Neither the sexually immoral nor idolaters nor adulterers nor male prostitutes nor homosexual offenders nor thieves nor the greedy nor drunkards nor slanderers nor swindlers will inherit the kingdom of God." -1 Cor 6:9-10
"Of this you can be sure: No immoral, impure or greedy person—such a man is an idolater—has any inheritance in the kingdom of Christ and of God." - Eph 5:5
"And I saw the dead, great and small, standing before the throne, and books were opened. Another book was opened, which is the book of life. The dead were judged according to what they had done as recorded in the books. The sea gave up the dead that were in it, and death and Hades gave up the dead that were in them, and each person was judged according to what he had done. Then death and Hades were thrown into the lake of fire. The lake of fire is the second death. If anyone's name was not found written in the book of life, he was thrown into the lake of fire." Rev. 20:12-15

You see the point. We, at some point, choose to sin because that is what we do. Babies cannot choose to sin. This supports the thought that babies are innocent. A holy God can bring babies to heaven because He is merciful, just, and loving. "Innocents", says MacArthur, "are graciously and sovereignly saved by God as part of the atoning work of Christ Jesus." (81)

If the Lord decides to use me to comfort a grieving mother at some point in the future, I will not have to offer empty platitudes, wishful thinkings, or half-truths. I can see the solid Scriptural case that babies who die are welcomed into eternity with the Father.